She makes this carol sound truly heavenly.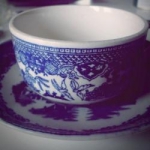 Rose Heichelbech
With a short acting career of only 13 years, Deanna Durbin still managed to win the hearts of most of her audience. The early films she made as a teenager, such as Three Smart Girls and That Certain Age, were innocent and bubbly and earned her an Academy Juvenile Award at only age 17. But, once she began taking on more serious roles she garnered criticisms from all angles. Ultimately Durbin longed for a life out of the spotlight and so stopped acting in 1949.
Her version of "Danny Boy" is renowned, but once you hear her rendition of "Silent Night" you'll be blown away. From the movie Lady on a Train (1945), Deanna Durbin's singing in the clip below is simply stellar. One of the clearest and most tender versions of this holiday song we've heard in a long time, this video reminds us of why she was always one of the best. Have a listen below to this wonderful Christmas carol.