It was such an innocent time for music!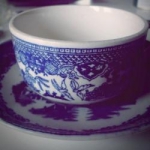 Rose Heichelbech
We don't often think of the greats of country music as being the big stars that appeared on the Dick Clark's Saturday Night Beech-Nut Show in the '50s. But, sometimes you get lucky and find a gem like this one from Conway Twitty. Known in later years for more of a country sound and less of a rockabilly attitude, Twitty is clearly channeling the latter in this clip from 1959. After an introduction from Dick Clark we get to see Twitty stroll through the building on a meandering path to the stage.
Conway Twitty's hit "It's Only Make Believe" was a chart-topper in 1958 and 1959 and continued to be a fan favorite at concerts for decades afterwards. Have a listen below to one of the great songs from that decade, sung in the more pop style of a country legend. And, for another great hit from 1959 click here.