The worst of the worst is kind of their thing.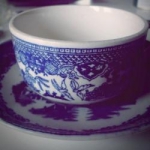 Rose Heichelbech
We've all got certain things in our collections that we have a soft spot for and maybe our loved ones don't quite understand why we're obsessed. For Joe Pickett and Nick Prueher, two avid collectors of the now-defunct VHS format, collecting some of the least-watchable video tapes ever known to man is kind of their thing.
The two have exacting standards and not only collect VHS movies, but they collect an obscure assortment of instructional, promotional, and exercise videos from the '80s and '90s that is at worst cringe-worthy and at best downright hilarious. They screen these video tapes for the kitsch value and have done so for 14 years, a job which has take them around the world with their Found Footage Festival.
The VHS format officially died in 2007 when the last video tape factory shut down and since then most people have never looked back. But, Pickett and Prueher take pride in their collection and act as comedic archivists of some pretty obscure VHS tapes. Have a look at a few snippets from their collection in the video below.