This critter was extremely determined.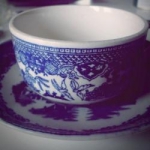 Rose Heichelbech
For all of us who have lost socks to the sock gnomes that live in the laundry room, the following story might ring familiar. But, instead of reversing housework this creature was caught doing quite the opposite. In England a 72-year-old homeowner named Stephen Mckears thought he was going crazy when the work bench in his shed was getting cleaned up every night while he slept. So, with the help of his neighbor, they set up a camera overnight to try and find out what was going on.
Mckears placed a bunch of objects on the worktop and placed a small bin nearby. Sure enough, when the footage was revealed, there was a very diligent little mouse cleaning up the area, what the creature most certainly thought of as its own home. Mckears has nicknamed the mouse the "Brexit mouse" since he almost seems to be stockpiling goods for the impending split from the E.U. Mckears said that the mouse worked most nights for the past month from about midnight to 2:30am. What a good little worker! Have a look at the video below wherein Mr. Mouse tidies up things both big and small.