The pair get a lot of different reactions to their lifestyle!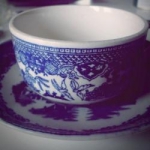 Rose Heichelbech
Sarah and Gabriel Chrisman live surrounded by the technology and the aesthetic of the Victorian era on a daily basis. The couple uses electricity on a rare occasion and they both dress in period clothing. In fact, the clothing is what drew Sarah into the lifestyle and she eventually wrote a book on wearing corsets in the modern world, Victorian Secrets: What a Corset Taught Me About the Past, the Present, and Myself. Sarah also has her own YouTube channel and her own website which document some of the finer points of her life- like how she does her hair everyday!
From authentic bikes and penny farthings to oil lamps, clothes, cookware – you name it – the Chrismans live a very unusual lifestyle for which they have received quite a bit of guff. But, they show no signs of stopping anytime soon! The couple enjoy the simpler things in life like collecting fossils, reading aloud to one another, and making things by hand. Have a look at the video below from The Seattle Times for a peek into their world. And, if you enjoyed this click the "Next Page" button at the bottom of the page for a look at the woman who's stuck in 1939!