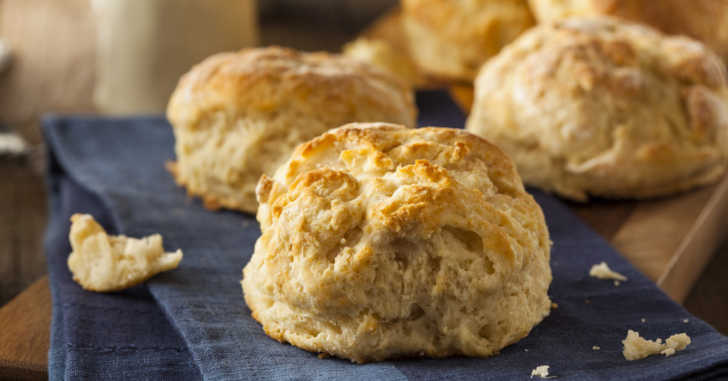 Nothing pairs with a hearty meal quite like flakey, savory, buttermilk biscuits. Whether you're having stew, pork chops, or meatloaf, these biscuits are the absolute perfect finishing touch to any meal. As with any recipe worth trying, the secret is in the butter. Slicing in cold chunks of butter and folding the dough creates those fluffy layers we all crave in our biscuits. When cooking, the cold butter melts and creates steam pockets. Just think about that for a minute – biscuit butter pockets. Yum.
This has become the go-to biscuit recipe around our house, and after trying it out for yourself, you'll see why. Be warned: you can't have just one. You may want to make extras, just in case. Go ahead and jump on the buttery biscuit bandwagon, we promise you won't regret it!
Flakey Buttermilk Biscuits
Ingredients
2 cups all-purpose flour
2 1/2 teaspoons baking powder
1/2 teaspoon salt
5 tablespoons cold unsalted butter, cut into small cubes
3/4 cup cold buttermilk
3 tablespoons honey
Preparation
Preheat oven to 400 degrees and prepare a baking sheet with parchment paper.
Whisk together flour, baking powder and salt in a large bowl. Using a pastry cutter, or your fingers, cut the cubes of butter into the flour mixture, breaking the butter into pieces the size of peas. Place bowl in refrigerator to cool for 10 minutes.
Meanwhile, mix the honey and buttermilk together in a small bowl, or measuring cup. Add to the flour / butter mixture, and gently stir to combine.
Gently knead the dough on a lightly floured surface 3-4 times to bring it together. Roll dough into a 9x5 inch rectangle, and fold into thirds. Repeat the rolling and folding process 2 more times, before rolling dough out to about 3/4-inch thickness. Cut biscuits from dough using a 1 3/4 inch round cutter, and place on prepared baking sheet.
Bake 10-12 minutes, until biscuits have risen and are golden brown on top. Serve warm!
Recipe adapted from Tracey's Culinary Adventures.