If you loved this one as a kid you are not alone!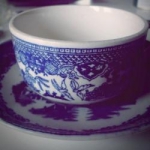 Rose Heichelbech
There are a few songs here and there that just bring back a world of memories as soon as you hear the first few bars and "The Bunny Hop" is definitely one of those songs! And, the dance is always a hoot – especially when someone gets off beat and the whole line feels it.
The Bunny Hop dance was created by students at the Balboa High School in San Fransisco in 1952 as a variation on the conga line and the dance soon caught on across the U.S. Folks were doing the Bunny Hop did to the song "The Glow-Worm" and other upbeat tunes of the day. Ray Anthony, longest surviving member of the Glenn Miller Orchestra, released the accompanying "Bunny Hop" song in 1952 as a vocal single along with "Blow, Man, Blow," then again in 1953 with the B-side of "Hokey Pokey."
This energetic song is the perfect thing to Bunny Hop to, as we can see in this lovely clip from The Lawrence Welk Show broadcast in 1952. Have a look below and be sure to check the Watusi right here.
https://youtube.com/watch?v=GWndL5N6edI