The process is fascinating!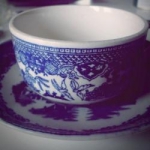 Rose Heichelbech
We had never heard of anything like this before! The British Pathé newsreel clip below is from 1937, but research into making fabric and fibers from milk had been ongoing since World War I.
Using chemicals, the proteins from milk are extracted, stretched, and then spun. The resulting fibers are then woven or knitted into fabrics. Cloth made from these fibers takes dye and the is said to leave the skin feeling soft like a milk bath! Though it is also said to wrinkle very easily.
Milk cloth is still being made today, though there are now processes which use fewer chemicals. One modern designer of milk fabrics, Anke Domaske, says powder made from just-soured milk has been the best for her proprietary fabrics.
What an ideal way to use milk that cannot be sold for various reasons! Have a look in the video below. And, click the "Next Page" button at the bottom of the page for a look at how globes were once made!