Bonnets and Bunnies: April 14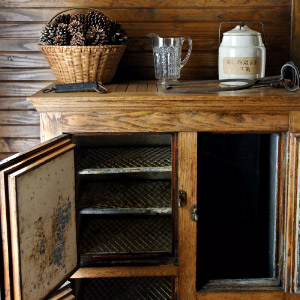 Dusty Old Thing
Those of us who grew up looking forward to a new outfit and shoes for Easter or other religious services and, if we were lucky, a basket of colored eggs and jelly beans, may remember the bonnets, the flocked dresses with crinoline, the shiny patent leather shoes. The boys may have gotten a suit that they really hoped to rapidly outgrow. Many children also received stuffed rabbits, those very interesting symbols of Spring.
Most of us know that the tradition of dressing up for Easter Sunday and the prevalence of rabbits in all forms goes back…and back…and back in time. Our interest here at Dusty Old Thing is when we started recording, in photographs, the intersection of dressing up and getting a stuffed rabbit. It's a bit of our cultural history. But when did it start?
We asked our readers to share photos showing both "bonnets and bunnies" as part of the "getting dressed up for Easter" tradition. So far our readers here at Dusty Old Thing have posted delightful photos mainly from the 1950's. There are a few from the 1940's, some of which we'll share today.
Dressing up for Easter or other spring religious services has a very long tradition. In England it went back to at least to Elizabethan times. The donning of finery was the symbol, not of wealth, but of the end of Lent and a celebration of spiritual renewal, of life anew. Even for everyday, hats, or bonnets for women, were routinely worn during most of our history. It has only been in the last century that the tradition has waned.
Rabbits are more interesting. It's the commonly held idea that they are pagan symbols of fertility that got incorporated, for children, into Easter. Like Santa Claus, however, the story is more interesting. "Three Hares", forming a triangle and chasing each other inside of a circle, has long been a religious motif in several traditions. The motif is in many medieval European and English churches and sometimes in Synagogues. In the Christian tradition they were thought to mean the Trinity or maybe a symbol of the Virgin Mary. (For a time it was thought that rabbits reproduced without…well, you know…we won't go there.) They also have much older roots, especially in Buddism. The Three Hares motif has been found in China dating to the 6th century and in Iran in the 13th and may have been brought into Europe by merchants on the Silk Road.
But rabbits are just plain loved by children. The first record we have of a toy stuffed bunny came in 1903, although there had to have been earlier ones. And, yes, it was Peter Rabbit and it was made by Beatrix Potter herself. You can see aphoto of her Peter Rabbit on the "Beatrix's Life" timeline at peterrabbit.com. Miss Potter wanted her rabbit to be mass produced in England but could not get any manufacturers to agree. Almost immediately, however, Steiff began making them and they were major hits. They now bring large prices at auction. In 2010, a 1908 Steiff Peter Rabbit brought over $6,000 at Christies.
We all can understand that there are not many photos of fine Easter bonnets and toy bunnies from the Depression days. But what about the 1920's? Did children receive gifts of stuffed bunnies at Easter? Are there any photos showing both bonnets and bunnies from those days?
But, meanwhile, here are some photos from our readers. They all come from the 1940's. Not all show both bonnets and bunnies. But the spirit is there.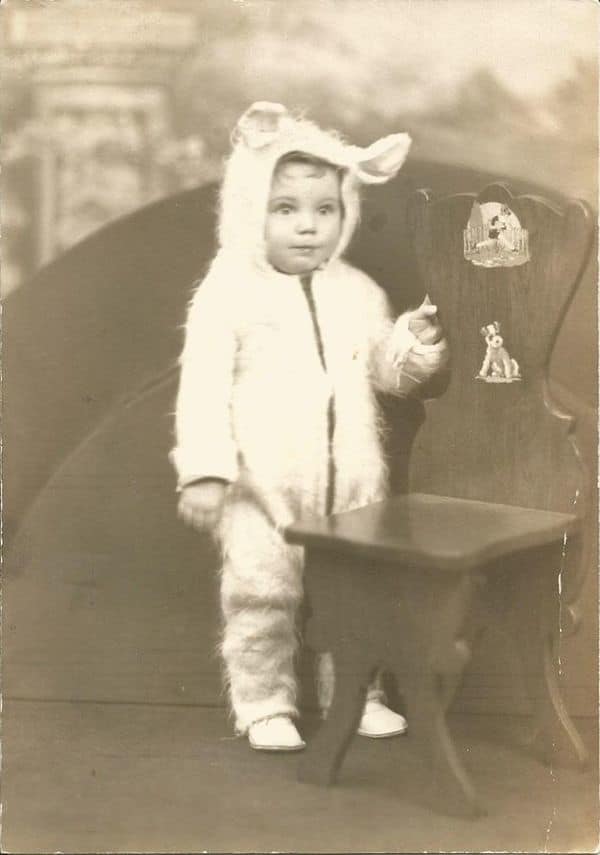 From Dee Boyle: "Here's another picture to add to your bunnies and bonnets series… circa 1947. Easter Parade."
We're assuming this child was dressed as a bunny in this delightful photo.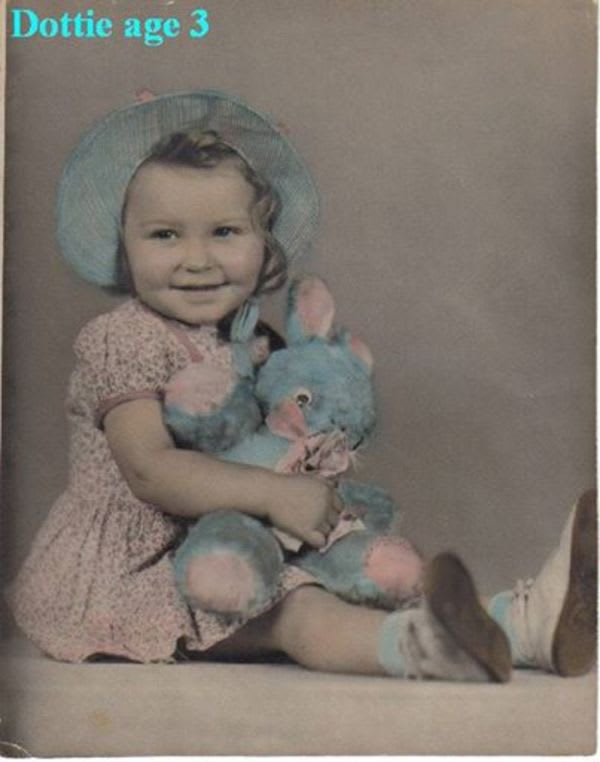 from Dottie Jacobs: "This picture was taken in 1945 in Ellwood City, PA. when I was 3 years old. It was taken at a studio, and they tinted the picture."
Carol, the little girl on the right, shared several photos of the same bunnies at Easter over several years. The photo was taken in 1948 or 49 in Campbell County, Tennessee. She adds that she and her sister got the bunnies when she was about 3 or 4. They only got them out to play on Easter Sunday. One was later passed down to a younger sister. We're also "counting" the nice hair bows as "bonnets".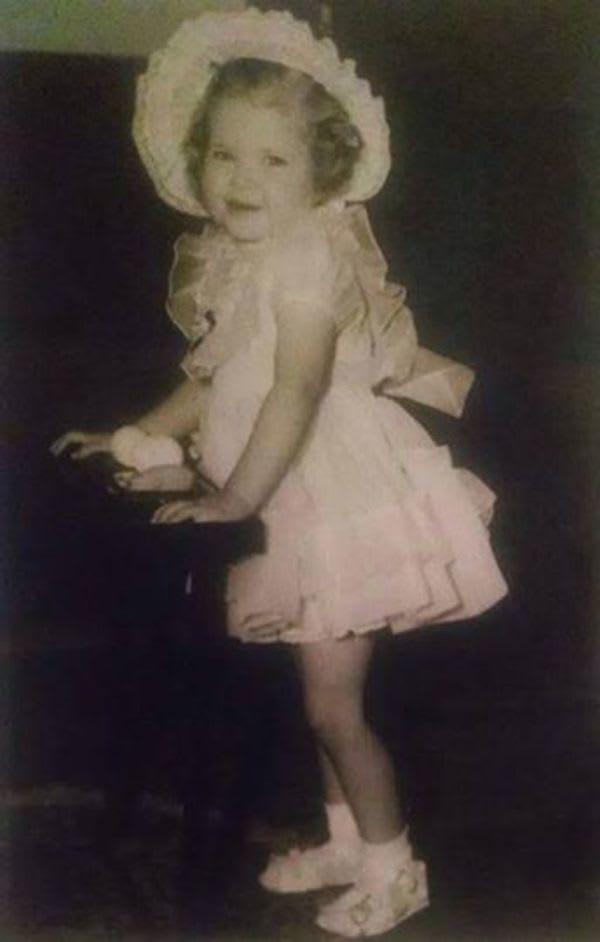 from Brenda Priddy Jennings: "Lubbock Texas 1949 ~no bunny, just a chick"
This little dress and hat and the little sandals were so characteristic of the finery of post WWII. She does look like Shirley Temple doesn't she?