Antiques and Blooms: May 17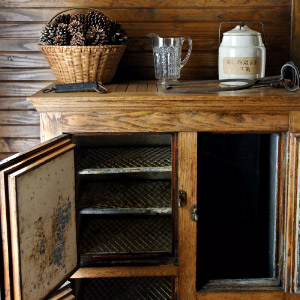 Dusty Old Thing
In the Spring many of us who love antiques also think of gardening and mixing "the green" in with our antiques and vintage finds. Some of the antiques we prize today include vases, jardiniers, wicker, garden ornaments, iron fencing and old metal lawn chairs. We love sunrooms and porches and patios and pergolas that mix old and new.
This morning we'd like to highlight how a few of our members have used antiques and other "old things" in ways that make us all happy it is Spring.
Mariajust said "Roseville" to caption this wonderful photo she shared with our readers. It is, of course, Roseville as it was intended to be used, as a vase for beautiful homegrown flowers. It looks, too, like it sits on a antique buffet and the light hits it wonderfully. Thank you, Maria, for giving us all such loveliness to enjoy on a Spring morning!
Monica has turned her sunroom into a classic retreat with her mix of antique wicker, floral fabrics, plants on wonderful brackets, some wall pockets, vintage and antique plates, figurines in colors that blend in and a wonderful airy valance on the windows. She simply wrote, when she posted this photo on our Facebook page, that this was the view of her sunroom through the living room's french doors. We would like to thank Monica for sharing it with our readers. It is beautiful and a good thing to see early in a Spring morning!
Dusty Old Thing loves the old outdoor water pumps. A good number of people are still using them, especially to get water for gardens.
Susan's is a "find" that helps bring memories of days gone by to a beautiful garden spot. Notice, too, the planter behind it. Susan writes,
"Loveantiques in the garden. This was taken in a prior season. Found the pump at my favorite flea market. The concrete planter with the mosaic glass inlaid was given to us by my husband's great aunt, & is at least 70 years old."
Connie posted this photo of vases she has collected. She'd like to know more about them. Do any of our readers have any idea as to their origin and probable date. 1950's? Connie also has similiar wall vases. She writes,
"Cananyone tell me anything about these vases? They are all lightly iridized, the metal holders have leaves on the end of the "tendrils". There are 3 or 4 different kinds of leaves. I read somewhere on the internet several years ago, that they were florist vases, like FTD or Tele-flora or the like, but now I can't even find that info again. I've also read they may be Dunbar. Can anyone help me? I have photos of wallvases to post next! any help appreciated!! All I know, is, I LOVE 'em!!"
So, readers, what do you think?
Sharon writes,
"Not old or dusty; however, I'm just happy to finally be able to sit on my screened in porch!" Many of us have memories of hot summer days and nights and the relief that the screened porch would bring. The breezes could move in, it could storm outside but yet we were generally safe and cool on the porch. One of our readers who commented on Sharon's photo said "porch sitting is a lost art!". We all need to bring it back! Thanks Sharon for sharing this with us….
And now for coffee on the porch….