This glass can be hard to find and hard to identify.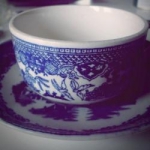 Rose Heichelbech
If you are someone who loves Hoosier cabinets, then you might already know what Sneath glass is. The distinctive glass canisters were once an integral part of keeping your Hoosier cabinet organized and ready for use. For anyone who loves vintage glass kitchenware, stay tuned because this type of glass is an iconic nod to kitchens of the past that you don't want to miss.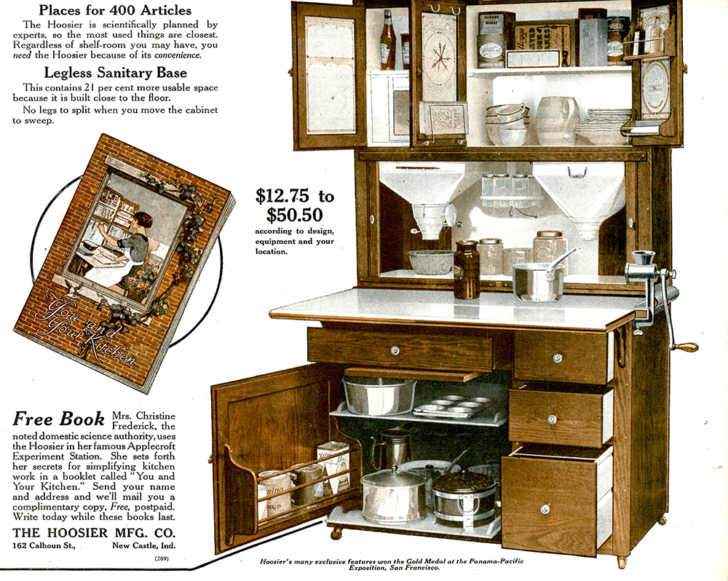 When the Hoosier cabinet came out in 1899 it was full of novelty. The cabinet, made by the Hoosier Manufacturing Company, was a brand new mix of functional elements that most women had never seen before. Innovations like the enameled worktop, pull-out pan storage, and gravity-fed dispensers of the most commonly used dry goods in the home (sugar and flour) Were revolutionary in their efficiency.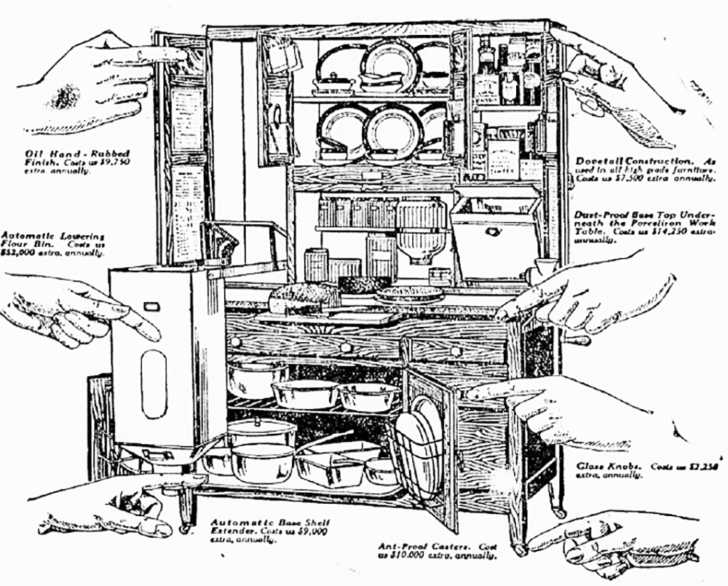 In addition to everything else that a Hoosier cabinet did, it also became the hub for the rest of the kitchen. Before such portable cabinets, women often made do with less than stellar kitchens and awkward food storage. That is, unless you lived in a wealthy household and could afford fancy built-in storage elements like a larder and pot racks.
For the average woman just getting acquainted with her Hoosier cabinet there were plenty of accessories to buy for it, provided it could be afforded by the household. And, that's where Sneath comes in.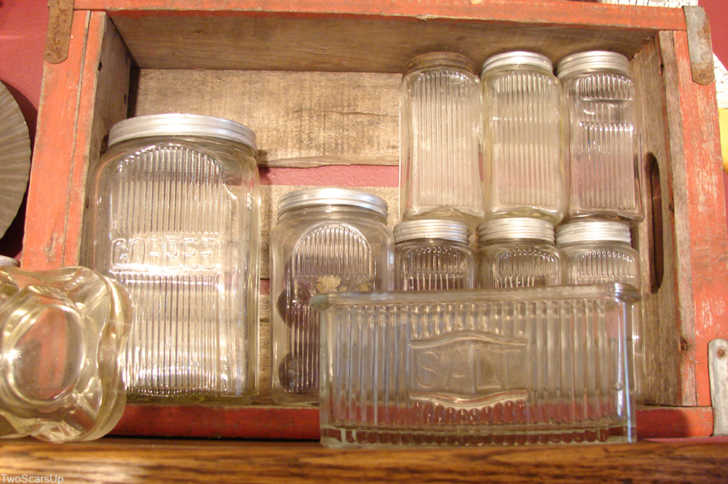 The Sneath Glass Company got its start in Hartford City, Indiana, in 1892 after Harry Sneath purchased the Ohio-based Tiffin Glass and relocated to Indiana after a catastrophic fire at the Ohio factory. Production began in 1894 on railroad lanterns and table globes, but as their necessity decreased the company focused on glass housewares for the kitchen instead.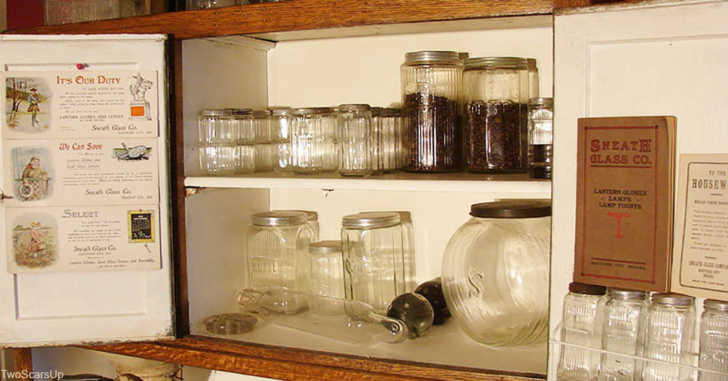 Sneath was one of the first companies to offer heatproof glass. Soon Sneath was making a variety of glassware specifically for Hoosier cabinets (the Hoosier Mfg. plant was only 40 miles away) and G.I. Sellers, although there are over 70 different makers of Hoosier-style cabinets recorded during the era.
A Hartman catalogue from 1916lists a complete Hoosier cabinet, with porcelain enamel top and glass canisters, for $28.45 which would be $669.67 in today's cash. It wasn't a cheap investment, but was very worth it for women who had previously been operating in unsanitary and unequipped kitchens. So-called "Hoosier sets" of Sneath glassware could be purchased for 90 cents to $1 during this same era for the stand-alone pieces.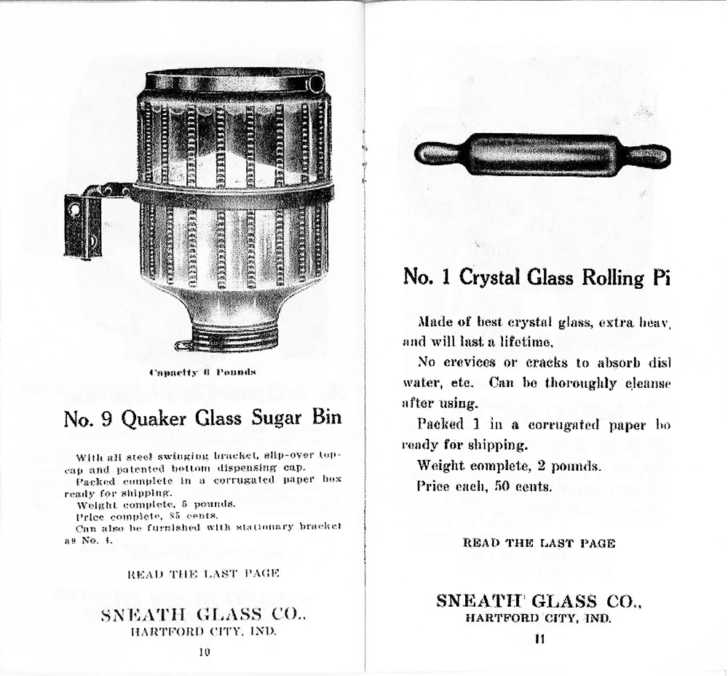 The Hoosier cabinet peaked in popularity during the 1920s. Following the Stock Market Crash of 1929 many people had no money to buy large, expensive items. After FDR's New Deal, many families had electricity for the first time and when they had money agin they bought refrigerators. Soon refrigerators were in nearly every home and Hoosier cabinets were displaced by modern cabinets and countertops which had become standard in new houses.
In light of changing tastes, the Sneath Glass company switched to making glass accessories for the fridge. Water dispensers in white or jadeite glass and other refrigerator containers became the stock of Sneath.
After the death of Harry Sneath in 1940 and the end of war-production during World War II, the company went out of business. This was in part because the brand had no recognition with the American public since they never directly marketed to their customers. In the post-war years Pyrex quickly garnered nearly all the market share for durable glass kitchen goods.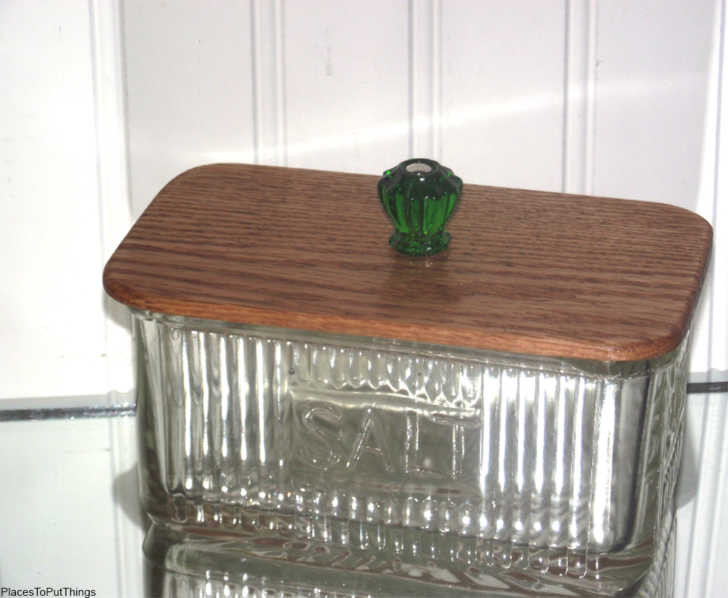 Sneath glass is marked with an S inside a circle. However, other several glass manufacturers of the era also used this mark, including Southern Glass Co, Swindell Brothers, and Sterling Glass. The most recognizable pieces of Sneath are the ribbed spice jars with the marked bottoms. These jars can sell for much more than other vintage spice jars at $30–$40 each, a rarity for a category of common household goods. Larger canisters can sell for much more.
If ever see this rare type of glass be sure to snatch it up since they are not all that common today. On the upside, if you have a Hoosier cabinet they will fit in perfectly!