This acid rock song reached #5 on the charts.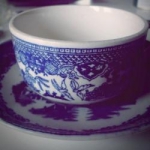 Rose Heichelbech
American Bandstand in 1967 was previewing "Somebody to Love" by Jefferson Airplane in anticipation of having the band appear on the show the week after. As usual the Bandstand kids were getting down to this psychedelic hit song, but with some pretty amazing results.
We love some of the far out dance moves, like the one boy who is doing a move we can only assume is related to punching a catcher's mitt! But, what we love best of all is seeing these talented kids swing dancing to this classic acid rock tune, proving that you can partner dance to almost anything!
Thanks to the Twist and other fad dances, by the late '60s most young people were dancing not as partners but as individuals – so this is really rare sight! It's more common that young people do new dances to new songs, but in this case the old fashioned style won out at least for a few kids. Have a look in the clip below.