A Small Town Antique Show: A Vision of Utopia in New Harmony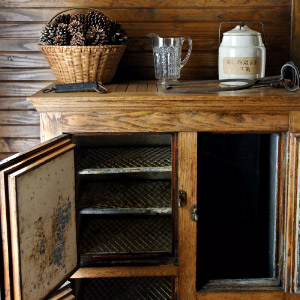 Dusty Old Thing
When visitors to New Harmony, Indiana, drive past reclaimed log cabins dating from 1775 to 1819, and then enter the modern Atheneum Visitorís Center they see a wall of white with the question in large letters: Whatís Your Vision of Utopia? Visitors coming to the townís antique show know theyíre going to find their type of utopia of history, charm, antiques and hospitality that only happens in small towns like New Harmony.
Dusty Old Thing chose the 12th Annual Golden Raintree Antiques Show and Sale this past weekend to be the first event like it we have covered. Since New Harmony started out as the locale for not just one, but two, early 19th century Utopian communities, and since we knew it was rich with a charm that is almost spiritual, we wanted to check it out.
The German Harmonist community, influenced by Pietist and Anabaptist thought, first established a settlement in Harmony, Pennsylvania, near Pittsburgh, before moving to the banks of the Wabash for their New Harmony in 1814. They were over 700 in number and erected large brick structures, farmed, had a tavern, mills, and a large granary. They were, however, far from markets and malaria was a threat so, in 1824, they sold the town to the Welsh/Scottish textile producer and utopian Robert Owen. Owenís experiment was interesting and with varied results. While Utopia was hard to manage he brought with him scientists and educators, many of whom sailed down the Ohio in 1826 in what was called the ìBoatload of Knowledgeî. Even after the community disbanded, many of them stayed and along with Owenís sons and daughter did breakthrough work in childrenís and adult education, in geology and other natural sciences with many of their writings published at New Harmony during the next several decades. Their impact in Indiana and the nation as a whole was immense.
So, when New Harmony puts on an antiques show it has rules (everything really does have to be vintage or antique); it blocks off the central portion of Main Street for outdoor booths while also having indoor space; the American flags are out; golf carts can be rented for those who donít want to walk; and sunshine stays out most of the time. But the real plus of the event is the friendliness of the dealers and enthusiasm of the visitors.
Dustyís first stop was at Firehouse Antiques owned by Jeff and Cindy Smotherman (above). Jeff grew up in an antiques family in Murfreesboro, Tennessee. His mother, Milly Smotherman, was a long time dealer and a charter member of the noted Murfreesboro Antique Show. Cindy has Kentucky roots but was living in Santa Monica, California, when she first became interested in antiques. She then came to Nashville, met Jeff and they went to auctions together. They really wanted to find a charming small town for their own shop and fate brought them to New Harmony. Their shop is is the restored City Building which used to house the fire department. Their shop has varied antiques ranging from 19th century pieces like the plantation desk below to Sessions clocks, barn doors and a super red retro metal locker.
Ruth Scully of Ruth C. Scully Antiques in Kentucky came to the New Harmony show with great pieces, mainly 19th century, from New England, Kentucky, and England. Her Staffordshire blue and white transferware and antique toleware were all remarkable. Ruth sells now at the Thoroughbred Antique Gallery in Lexington, Kentucky where she specializes in antique silver, English accessories, Staffordshire, and helping her clients.
Two visitors from Kansas came to the show specifically looking for antique quilts and Ruth showed them this beauty from the 1930ís. Itís one of the prettiest quilts Dusty has seen in a long time.
Bill Hopper along with his wife Karen were there with very unusual antiques, mostly from Pennsylvania and Maine. Billís shop is the Red Rooster Two in Vincennes, Indiana. Bill had an antiques shop in the 1960ís but then was a school administrator so gave it up until 12 years ago. He specializes in Early American Country. He likes pieces that show what life was like in days gone by, especially pieces that were homemade and practical. He prides himself on careful research of every piece he buys and documents that on cards displayed with each piece. One item he brought was a Pembroke table in its original finish, early 1800ís from Pennsylvania. His goose (below), however, attracted the most attention. He had documented the maker, date and how it was used.
The 19th century Utopian communities of the Harmonists and the Owenites may have technically faded away, but that spirit of doing things well and working together still clearly lives on in New Harmony. Small towns capture that in their Antique Shows. For a weekend it does become a type of Utopia.