A Proper Lady's Dressing Table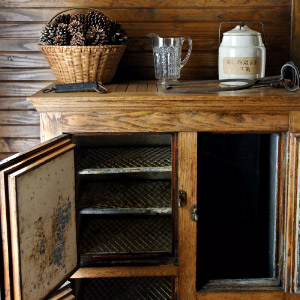 Dusty Old Thing
We'd like to thank Faye Gresham for sharing with our readers this photo of the vintage porcelain dresser set that was given to her parents when they married in 1921. It is very beautiful and it is remarkable that it is still in great condition after all of these years. Knowing that it was a wedding gift is what gives it such meaning!
Faye didn't mention about the markings on the piece, so we can only speculate at this point. The hat pin holder and hair pin tray have lines that are almost identical to similiar pieces that were Morimura Nippon. However, Limoges and many of the Austrian/Bavarian porcelain makers also created beautiful dresser sets with legs like the hair reciever and powder box. It's also possible that the set is older than the wedding date.
What's important for us, however, is how important such a set was in the culture of 1921. A lady's vanity, or dressing table, was an important piece of furniture. We've all seen how many scenes in Downton Abbey, even after WWI, take place while Lady Mary is at her dressing table. And we know, practically, that a lady's or couple's bedroom was seen more by guests in the days before guest bathrooms. But what we've missed, in looking back at those times, is how much it was promoted by women's publications at the time.
The English Lady Colin Campbell translated an article in 1893, written by Baroness Staffe, on what should be on a lady's dressing table,
"The variousboxesfor pins and hair-pins; a large casket, in which are placed thebrushes and combs, whose elegance should be on a par with that of the rest ofthe room; the bottles of perfume and of scented oil or pomades; the powderboxes; the manicure case, etc., should all have their places on this table, ateither side of which should be fixed a couple of tall candelabra."
Emily Post, in an 1922 article on entertaining a large house party, advised the hostess to check each guest room, doing her own hair at the dressing table, to make sure it had good light. Mrs. Post assumed that the guests would bring their own traveling dresser sets.
Dressing table sets, whether they were silver or porcelain or tortoise shell or the later celluloid or any of a variety of ther materials, all said "This is for the lady who has the time to sit down for beauty rituals". They didn't just make a bedroom prettier, they said alot about her social expectations and her status. While we might now consider them as something more as a gift just for a lady and not a wedding gift, in that time they were an important part of a well decorated home where guests frequented.
Thank you again, Faye, for sharing this photo of your parents' set with Dusty Old Thing. We know that it's a treasure because of memories. It's not often that we still have family wedding gifts from days gone by.
Check out more from Studio Publishing