A Dusty Essay: When The Wolf is at the Door; or Selling Antiques When You're Broke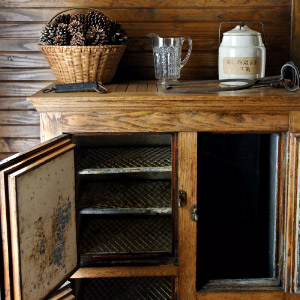 Dusty Old Thing
One of life's realities is that, at one time or another, almost all of us will have the wolf at the door. Many of us live paycheck to paycheck and one shock, a job loss or medical bill or even a transmission going out, can send us careening downward until we can practically hear the wolf howling. He may have been sly and led us astray in the woods of a dream of the good life, or maybe he even chomped on Grandma. Thankfully, like Little Red Riding Hood, we can tell him by his sharp teeth. Those bites hurt. We have to fight off the wolf.
(Photo: WPA poster by Kenneth Whitley for the Federal Arts Project, 1939, from the Library of Congress, uploaded to Wikipedia, 2004, Public Domain)
Every once in a while our readers will post a photo of an antique and simply say "Inherited from Grandma. What's it worth?" A first reaction can be varied. We might think "How awful. Can't you appreciate what you were left?" Another reaction might be "We're not appraisers at Dusty. Appraising has professional standards. Besides, it's next to impossible tell value from a photo. You have to research an item carefully to determine date, authenticity, and condition. Then you have to compare it with similar pieces that have been recently sold in a specific market."
But, then, we have to stop. It's highly likely that the reader Needs to sell it…and, maybe, sell it fast. There's that desperation, the wolf at the door. It's that dull dread that keeps you awake at night trying to figure out what bill to pay next and what maybe you can sell. It's the fear of loss of reputation if people learn you are in dire straits, that you are, in fact, broke.
This is Nancy with Dusty and I've "been there". I have no sure answer but I have tried most of the popular avenues for selling antiques to raise funds. Years ago, as the sole caregiver & legal representative for my elderly mother, I needed funds for her assisted living costs. With her permission (She said "Sell it all!"), I held a tag sale at her home and sold off everything I knew we would not want, or that we could part with. A few wealthy people came by and offered to buy some very good antique lamps and a mirror. I managed the sale myself so did not have to pay a commission. I carefully researched items to determine asking price. It was a success. It raised enough for about two month's care.
Then came her figurines and collectables and the Roseville and Hull. I hawked those to an antique dealer friend. He paid me well for the pottery and put them in his window with only about a 20% markup. That was fair. They sold fast. Later I took the Royal Doulton figurines in. My mother had loved those. The dealer was not there, but his wife said she'd take them. She only gave me a small amount for them. Later they were in the window with high prices marked. That hurt; I heard the wolf howl.
When no one wanted all her dozens of collector plates and art prints, the wolf howled again. When she bought those she said their value would go up. They had been costly.
Later I started hawking my own things: my Fostoria American crystal I'd been given at Christmastime and at birthdays growing up, some jewelry, some silver, and things I can't even now recall. I held some yard sales. Living on Main Street in a small city helped make yard sales successful. I always advertised creatively. When there was no more I could think of to sell, I had to face reality. She loved her assisted living apartment and did not want to move in with us. There was no choice. I had to work and so hired nurses and sitters. Family helped. Costs mounted. The wolf howled.
After my mother passed away and the pain of loss and missing lessened, I turned to Ebay and got really good at pricing and estimating shipping costs. I made friends with a postal clerk who helped me package well. It was hard work. When the recession hit, profit evaporated. A job loss came. A good cousin offered to buy some furniture that were family pieces. I sold them with no hesitation.
But, despite all that selling, I still had a big house full of antique furniture and lamps and "stuff". It was time to slay the wolf. We had an official auction. We got everything all cleaned and polished. The auction company did the rest of the work in a spirit of fun. The weather was good; hundreds of people came. There were some tense bidding wars that drove up prices. I enjoyed it all; hearing that word "Sold!" ring out was like music. We kept the things we wanted and haven't looked back. The commission was reasonable. There wasn't anything left on the lawn like in "Out of Africa". Today I enjoy hearing from people who purchased a piece of cut glass or who still tell the stories of how they won the bidding over so-and-so. It was all about resilience, of taking the action that needed to have been taken, of slaying the wolf at the door and being glad of it.
With all this narrative, it's obvious that I can't say what is the best way of selling antiques to raise funds. Lots of people are suffering now; prices seem to be low except for those few antiques sought by the very wealthy and collectors. The most important thing is to do your research to know a possible value. That takes time and access to current price guides and/or the internet. Remember, it's always the completed price at auction that is important, not the estimated value or "buy it now" amount. Also, in-person auctions are highly dependent on the quality of the advertising, the local economy and even traffic and the weather.
The most important ingredient is grit. It's that willingness to confront the wolf, to do what it is you have to do. It can be humbling, but humility is a virtue, isn't it? The old Shaker song, "The Gift to be Simple" has important lyrics: "When true simplicity is gain'd, To bow and to bend we shan't be ashamed. To turn, turn will be our delight, Till by turning, turning we come 'round right."