A Dusty Essay: A Penchant for the Minimal and the Antique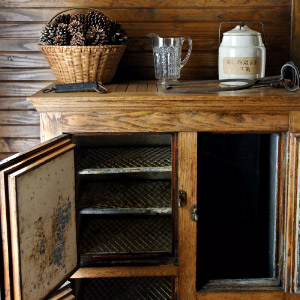 Dusty Old Thing
Hello, this is Nancy with Dusty Old Thing. I have admitted before to liking minimalism, an unusual trait for those of us who appreciate antiques. I don't know if the yearning to see things simply made or arranged is in the eye…or if it is in the heart, a grasp for the essential.
Minimalism in its purest sense reduces an object or a design to its simplest form, its most necessary elements. There is an unity of form and function. The phrase "Less is more", used by the architect Ludwig Mies van Der Rohe, is a frequent motto. The play of light and shadow is part of the composition; so is a focus on materials and on open space.
Maybe my penchant for the minimal comes from my mother who, when dressing, would often declare that 1950's mantra about costume jewelry: "Put on the least number of pieces you think you need and then take one off." I think it's what Coco Chanel meant when she said "Elegance is refusal."
It also may come from an early affinity for Shaker design. With family roots from near both of Kentucky's Shaker villages, I saw the furniture and loved the restrained beauty of architecture built by those who believed that perfection of work was spiritual, a gift. I also saw minimalism in the Art Deco of my native Ohio, in bandshells and bridges and art and museums and train stations built by the New Deal. Those bold lines seemed to demand optimism and strength.
Form and function, in our home, meet in the simple lines of an early cherry Kentucky chest and in the the austere lines of an old Virginia bonnet chest with a finish I haven't touched. Minimalist decoration is also in the row of white ironstone pitchers on a dark Eastlake wardrobe owned by a friend. The wardrobe has decorative elements that are non-functional, but the simple white pitchers and the one sugar bowl command the eye and reflect the light.
All of us who enjoy antiques or vintage/retro have differing ways of displaying and using them. What we like and how we display them may have psychological, cultural or even spiritual roots. Some of us like to be surrounded by all our inherited things or all our "finds". They remind us of good times. Maybe we're Baroque or Art Nouveau or Victorian at heart. Maybe passed-down wisdom from the Great Depression makes us keep lots of things close. Others of us like to reduce our surroundings to elemental forms. We like Shaker or Arts & Crafts simplicity, or maybe it's sleek industrial design. Maybe we like how Gustavian antiques look in northern light, or how just one South Carolinian rice bed seems at home with bare walls while a hot summer's light filters through old shutters.
It's in the eye as well as the heart, a search for what brings peace, a sense of our place in time and the unbroken connections we hold dear.