A Day at the Locust Grove Antiques Market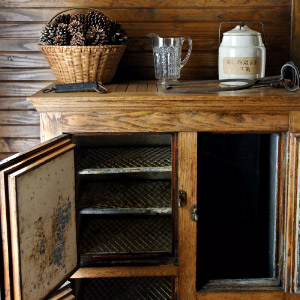 Dusty Old Thing
The semi-annual Locust Grove Antique Market is one of those wonderful relaxed and manageable regional antique fairs that take place outside under the shade trees of a historic site. Antique sales like this one are often smaller but have a higher quality of pieces than might be seen at larger venues. They really are antiques and most have a distinct local provenance.
Locust Grove, in Louisville, Kentucky, was the home of George Rogers Clark, a hero of the Revolution before he was 30. He was leader of the Kentucky militia (then part of Virginia) and captured Kaskaskia and Vincennes with only a small number of rough and tumble frontiersmen in a harsh winter campaign. His younger brother, William, was William Clark of the Lewis and Clark Expedition.
The estate is now a historic site owned by Metro Louisville and operated by Historic Locust Grove, Inc. The mansion was built about 1790 and hosted several presidents, plus at least one duel in 1841. The home and grounds are open to the public at specified hours and the lovely estate is used for events such as the antique sale and an upcoming Jane Austen Festival in July. The fall antiques market will be on September 28.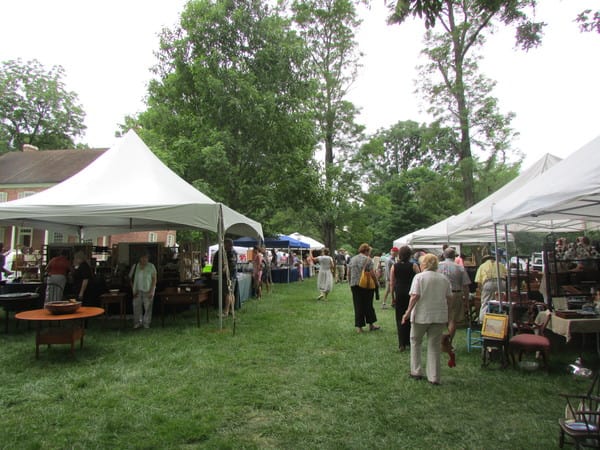 Storms often pop up in Kentucky in the summer, so most dealers are under canopies. They are spread out enough that the whole experience is relaxing. Dealers love to chat and explain about the history of their pieces.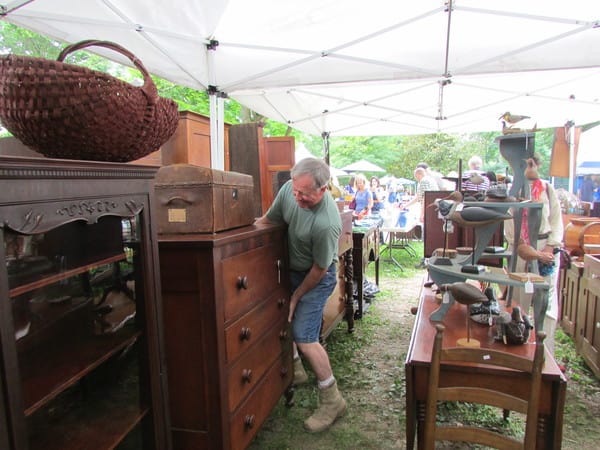 Bob Davis of Scarlett's is always fun. He and his wife primarily sell to other dealers, but also sell to the public at shows. I bought a distinctive ladder back chair from them. It's known as a Browning chair and was made in Kentucky. One chair like it is in the Speed Museum collection in Louisville. I got this one for $50! Bob also has great classic cherry pieces.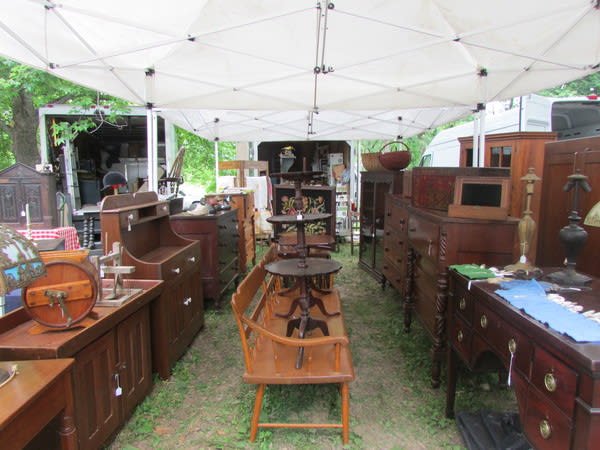 Lots of styles, lots of fun!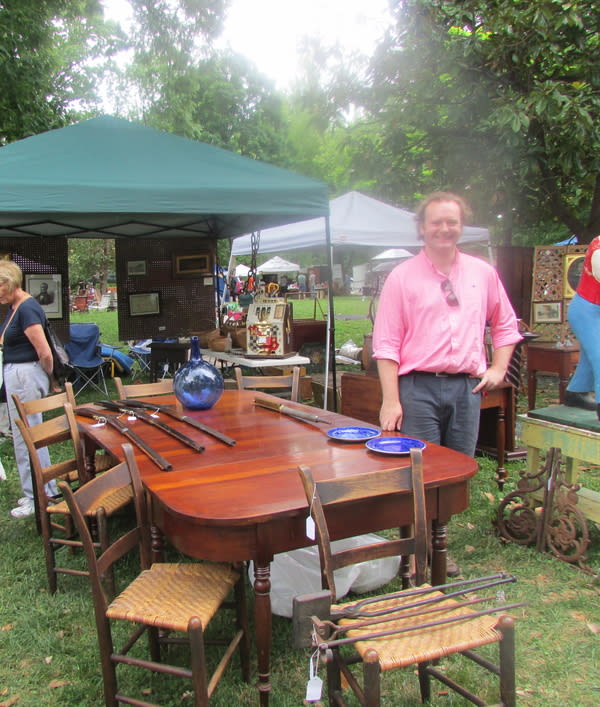 Taylor Thistelethwaite brought this great dining table, antique rifles, Staffordshire plates with Kentucky scenes, metal work and a smile for everyone who wanted to learn more about Kentucky and Virginia antiques.