A Bit of Vintage Christmas: December 9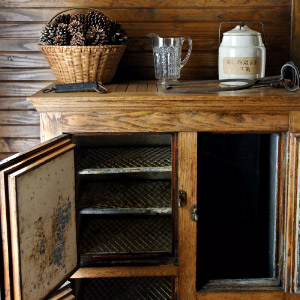 Dusty Old Thing
We love how our readers treasure the old decorations of Christmas Past…even those that were inexpensive so long ago. Here are a few we've selected to highlight tonight. We hope they bring back very good memories. Our thanks go to everyone who shares the antiques and vintage decorations that remind us of how Christmas was celebrated and the magic that still captures our imagination.
Monica always has a wonderful sense of decoration and use of color and we'd like to thank her for including the delightful cardboard houses that bring memories to many post-WWII children.
Cardboard, or pasteboard, village structures date back to the 1920's, but became mass-produced right after WWII. Many were produced in Japan. They were frequently covered in glitter, had colored cellophane in the windows and delightful details. They could be purchased for a very low price at dime stores or from popular catalogs. They tended to come in all kinds of colors and sometimes had holes in the back for small electric lights. In the collecting world they are called "putz" from the German verb "putzen" meaning "to clean" or "to decorate". They were extensions to the traditional nativity and other Biblical scenes that were set up in American Moravian homes, often under a Christmas tree or on a mantle. As the tradition spread, farms and whole villages were added…and then trains!
Today we have ceramic Christmas villages that follow the same concept, but our dusty old hearts still love the magic of cardboard and glitter!
from Jan Verhoeff-Stauffer: "This paper Advent calendar is displayed for its 63rd time. Still standing tall."
Darlene adds that the doll was make by Kickerbocker in the 1940's. Her name is "Cheerful Cherub".
This is a wonderful musical ornament and we'd love to know more about it. Readers, can anyone help date it?
And on this very cold night in much of the US, we'd like to wish warmth and cheer to all our readers…all over the world.