A Bit Of Vintage Baking: December 12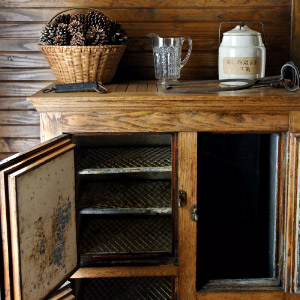 Dusty Old Thing
Many of us have heard the stories of all the cakes and pies and cookies and candies that were made by our family members at holiday times long ago. So many had wooden stoves and maybe had to fetch cream from a springhouse to churn into butter. The eggs maybe came from their own hens. Dough may have been mixed and left to rise in a wooden dough bowl. Homemade molasses or honey or maple syrup tapped from trees "on the place" may have sweetened the desserts. It seemed that, despite all the harder elements of cooking back then, they did make more pies, more cakes, more cookies. There was even a whole category of kitchen cupboards called "pie safes" to store the goodies.
So today, we can't resist thinking about how they cooked back then. Here are a few photos of antiques recently shared with us by our readers. They give a bit of a glimpse of baking in times gone by…
from Tim Beard: "Seriously, who wouldn't want to bake their Christmas cookies in a 1884 PP Stewart oven….Merry Christmas all!"
We think Tim's question really should be "Who wouldn't want to taste just a whole bunch of cookies made in his 1884 oven!" Look at how well they have turned out! This, too, is what we call a good adaptive vintage kitchen! You just know that the food that comes from that stove is fantastic!
From Deborah West: "Purchased in historic Fredricksburg, Virginia."
Deborah also writes that this dough bowl is 42″ long and has a "worm hole heart". She would love to have our readers' ideas on a possible date. It does look to be hand hewn from a solid block of wood.
from Marion Horner
Thanks to everyone who has shared their love of antiques, and the stories that go with them, with Dusty Old Thing. And now it is time to think about baking! Merry Christmas to All!