A Bit of Christmas: December 3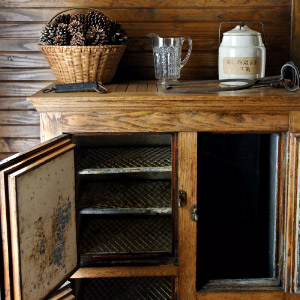 Dusty Old Thing
It is starting to look a bit like Christmas so this morning we'd like to share just some looks at Christmases past as preserved in an old photo, in an cherished ornament, in an old catalog and decorating with primitives. They all are from our readers.
The holiday season is just a wonderful time for bringing out the "dusty old things", dusting them off and telling their stories. "Things" can be memories, too. We like to share those. They are part of the traditions we all make.
from Teresa Rogers: "At a recent estate sale, I found several Christmas catalogs someone had saved from 1956... This one was from the May Company in Southern California".
This is Melinda's dad about 1941.
from Bridget Borchert: "Growing up we had a silver Christmas tree loaded with (mostly pink) Shiny Brite ornaments and a rotating color wheel. All are long gone now. One ornament that I loved and we rarely used stuck in my head…a "wood" manger with a picture of the Holy Family inside. I mentioned it to my sister a few years ago and she had it tucked away in a box. Well, now it's mine and I love it! I decorated this swag and gave it a place of honor right in the center. Yes, it's tiny but it's HUGE to me! Happy Holidays!"
Just one small ornament, maybe even one that came from a dimestore or one that was homemade can have more meaning than all the fancy and expensive ones that have come since.
This is beautifully done!
Thanks to everyone who has shared their love of Vintage Christmas and memories of holiday seasons long ago!