She's very glamorous!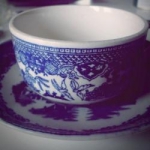 Rose Heichelbech
Most of the people who have become famous because of social media are pretty young. So-called "influencers" can literally be children and have a lot of sway with their followers. But, it's not often that we hear about someone of retirement age becoming a social media sensation.
65-year-old Lyn Slater has a really good outlook on fashion and it certainly shows in her Instagram photos. Slater says she has a few really basic formulas that she nearly always follows order to find the perfect outfit. But, clearly her adventurous taste in clothing also helps her to create stunning ensembles.
Since her Instagram account has gained thousands of followers, Slater has also become a spokeswoman for Valentino Eyewear and other high fashion names, as well as securing a contract with the agency Elite Models London.
Of her success Slater has said: "Through my work there is a different way to think about what happens to a person when she gets old." We couldn't agree more! Have a look at her story (and her fashion formulas) in the video below.