There's a reason people call him The King.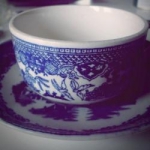 Rose Heichelbech
Elvis Presley will forever be an icon in the music industry and in pop culture. Often credited with bringing rock and roll into the public eye, his swagger and his swiveling hips earned him a reputation for being a bit too sexy for some. His first hits were "Love Me Tender" (featured in the film of the same name in which he starred) and "Heartbreak Hotel"- both of which were released in 1956.
The following year his big song (and film) was "Jailhouse Rock". The song hit number #1 on the Billboard charts that year and the film also did well, as it contained a highly choreographed dance scene featuring Elvis the Pelvis. But, after 7 years of not doing live performances, Elvis did his "comeback special" in 1968, simply titled, Elvis and this rendition of the song was a lot more intense!
The NBC special marked his return to performing for audiences and a departure from his acting career. The special was incredibly popular and a photo of Elvis in the black leather outfit he wore for Elvismade the cover of Rolling Stone magazine in 1969. "Jailhouse Rock" was one of the songs that the Beatles had often covered back when they were known as The Quarrymen. But, there is only one Elvis and no one sings the song like him- in any decade.
Hear his amazing leather-clad 1968 rendition of "Jailhouse Rock" again in the video below.